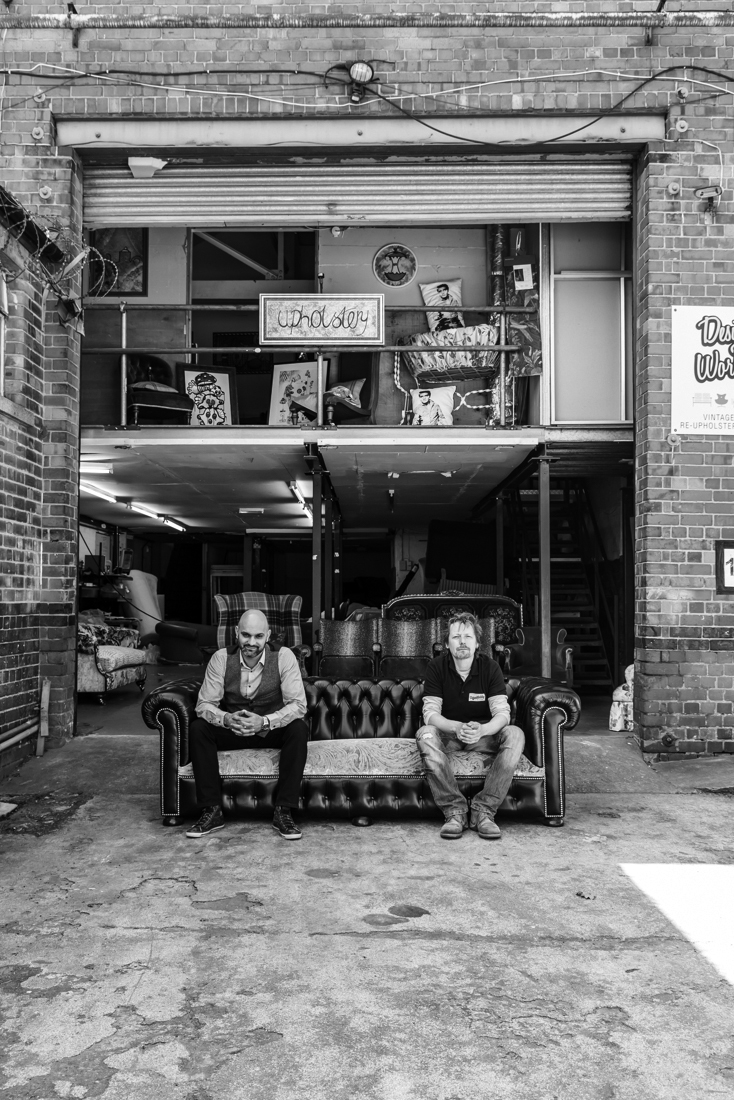 Nottingham based upholsterers
Tan and Steve initially met whilst working at different furniture companies several years ago. Having discovered they both shared the same passion for furniture that is "a little bit different" they stayed in contact. A change in circumstances led them to wonder if they could set up their own company creating interesting upholstered furniture..
"We wanted to do our own thing" explains Steve. "There were other sofa companies out there but we wanted to offer customers sofas and chairs that weren't run-of-the-mill".
"I was sure there was a market for handcrafted, quality designer furniture" concurs Tan. "As well as making bespoke new pieces, the idea was to offer clients original vintage and antique furniture which we lovingly restored".
Designer Workshop opened it's doors in January 2014 and has since built up an enviable reputation for the high quality of furniture it crafts, as well as the superlative reupholstery service it offers. Having started with a small number of high end retailers, Designer Workshop has expanded and now works with antique dealers, carrying out extensive furniture restoration – particularly to french button back chairs and sofas. More recently, the company has evolved into the Contract Market and offers a range of commercial upholstery for bars, hotels and restaurants.
The majority of clients come to Designer Workshop as they want their own sofa or chair reupholstering and the business has grown by word of mouth recommendations. If you have any upholstery query, call us on 0115 942 3803 for a chat. We would love to hear from you!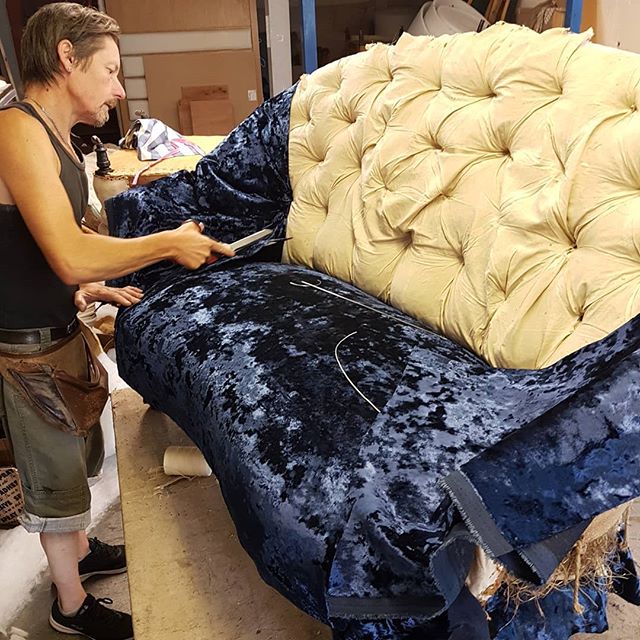 Steve's journey
Upholstery is something I have been involved with ever since I left school at the age of 16. Over the past 30 years I have honed my skills and am fortunate to have found a craft that I love. I was lucky to have been taught by the best there is and my apprenticeship in upholstery has held me in good stead all these years. At the time it didn't feel like it though! As part of my upholstery apprenticeship I was only allowed to hand stud for 2 years. Now that is a long time to do just one thing. I was itching to pick up a staple gun, cut some fabric or try anything different but that wasn't the way we trained back then. I remember thinking "is this all I'm ever going to do?" as I stood there with my hammer and studs, day after day, week after week, month after – well you get the idea.
Now, as part of what we do at Designer Workshop, something that I found arduous all those years ago, I almost take for granted now. What I didn't realise at the time was how that repetitive task trained my eye and I can hand stud with ease. This is what makes Designer Workshop so great – I was carefully taught all aspects of traditional upholstery: deep buttoning, hand studding, using horsehair and so on. This is why we have clients that come back to us time and again for their reupholstery requirements or to have a bespoke sofa made.
"Even after 35 years of bespoke craftsmanship, I've found the key to beautiful upholstery and the reason I still love it after all these years is that I'm always learning something new"
Steve Master Upholsterer
"Tan, Steve and their staff have just reupholstered our vintage Chesterfield sofa and an armchair. We could not be more pleased with the result. Both items look fabulous, and the whole experience has been a delight form start to finish.
Tan and Steve were really helpful throughout the process, enabling us to choose the right materials for our furniture and moving other furniture around when they collected the pieces for reupholstery. (They even moved our piano!) The work was carried out promptly, and at a reasonable price.
We shall certainly return to Designer Workshop for any future upholstery needs, and do not hesitate to recommend them."

Jenny Duxbury
"We had our mid-century chair reupholstered by the team at Designer Workshop and we could not be happier. The communication has been excellent and the craftsmanship is superb; we would definitely recommend! Thanks Tan and the Team"

Tom & Rhi Greaves
"I'm so happy I found this place. I was looking everywhere for someone I could trust to fix my vintage Italian leather sofa and then stumbled upon this gem of a company. Steve and Tan are genuine artisans who really care about what they do. Steve went through sample after sample to find the perfect match to the leather. As I was only in town for a week they also rushed the job though. The best thing was, they even dropped the price at the end because they hadn't needed all the materials they thought. Great guys, awesome service, perfect work."

Ian Willams
"Went to see Steve via a friends recommendation. He was so helpful and accommodating. I needs some custom made seat pads for a bespoke piece of furniture for my summer house and the resultant products were awesome. Absolutely thrilled with the finish, the cost (extremely good value for money given the outstanding workmanship) and the speed at which the work was done. Amazing craftsmen! Highly recommended :-)"

Tal Austin